CD-ROM with Excel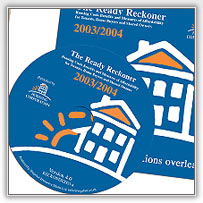 The Housing Corporation Ready Reckoner
Fresh Interactive produced For The Housing Corporation a key guide to help LA's and Social Housing providers set affordable rents.
Outline: The Housing Corporation is the largest Quango in Britain and oversees "affordable" social housing in the U.K. for the government. The Housing Corp is responsible for providing a definition of what affordable actually means when setting rent.
Brief: To create a distributable Ready Reckoner that would take account of regional and local variations and use DHSS and housing department information to provide information on income and percentage of income that is spent on housing etc.
Approach: Fresh worked with a leading government statistician and the IT outsource at the Housing Corp and created a self installing Excel spreadsheet that presented 16 key items of information in an attractive interactive way.
Fresh also produced web pages for the Housing Corp website that was a subset of the CD ROM using JavaScript.This was used to help promote the CD ROM to housing associations etc.
Result: A much clearer and repeatable tool was created called "Benefits and Measures of Affordability Calculator" and was widely used throughout the affordable housing market sector and internally at the Housing Corporation.

Criminal Law Solicitors Association
The updatable CD-ROM handbook saved thousands and launched CLSA into 21st Century

CD-ROM With Interactive Database
Helping Local Authorities plan their accessible housing needs 5 Years ahead a ground breaking CD-ROM.

Sussex University CD-Rom
An Interactive CD-ROM to boost the university's marketing - cost effectively oversees.